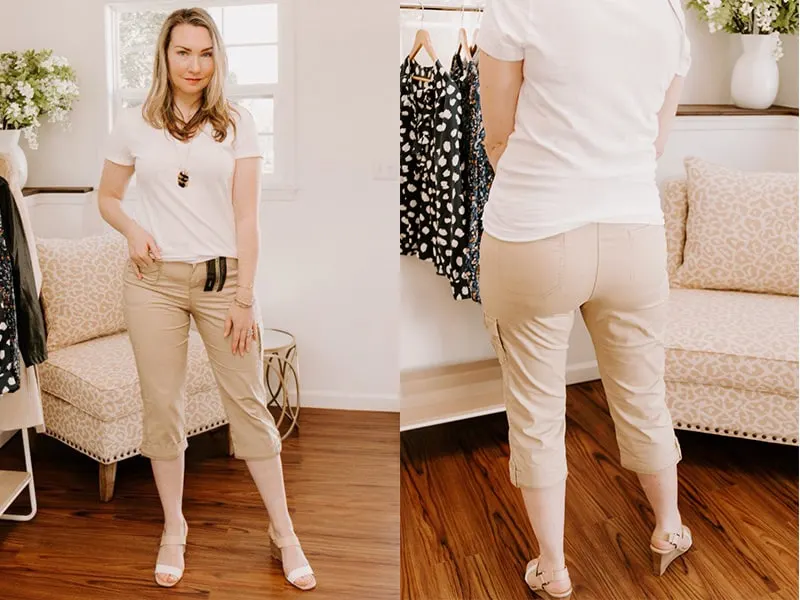 Looking for Capris for Tall Women you came the right place. Tall women, rejoice! It's time to trade in those ill-fitting capris for a pair that actually flatters your long legs. We understand the struggle of finding the perfect length and fit, but fear not – this ultimate guide has got you covered. From different styles to the best brands, we've compiled all the tips and tricks on how to shop for and style capris as a tall woman. Get ready to rock those summer outfits with confidence!
How to find the Perfect Capris for Tall Women
As a tall woman, finding the right capris can be quite challenging. The perfect pair should fit comfortably and flatter your long legs while allowing you to move around with ease.
Firstly, consider the length of the capris. Ideally, they should hit just above or below your knee for a balanced look. Avoid going too short as it may make your legs appear even longer.
When shopping for capris, pay attention to the fabric and stretchability. Opt for materials that have some amount of stretch so that they hug your curves in all the right places without feeling restrictive.
Another important factor is waistband placement – high-waisted styles tend to work best for taller women as they elongate the legs further and provide more coverage at the back when bending down.
Don't forget about color! Neutral shades such as black or navy are versatile options but don't shy away from bold colors or fun prints that express your personal style.
By following these tips on how to find the perfect capris for tall women, you'll be able to rock this versatile wardrobe staple with confidence!
Different Styles of Capris for Tall Women
Tall women have a variety of capri styles to choose from when it comes to adding this versatile piece of clothing to their wardrobe. One popular style is the classic straight leg capri that falls just below the knee and pairs well with sneakers or sandals for a casual look.
For those looking for something more fashionable, high-waisted capris are also available in various colors and patterns. This style can be dressed up with heels and statement jewelry for a night out on the town.
Another trendy option is wide-legged capris that provide comfort while still being stylish. These pants pair well with crop tops or tucked-in blouses, making them perfect for both casual outings and dressier occasions.
Athletic-inspired capris are great for tall women who want something comfortable yet functional. These pants often come in moisture-wicking fabrics and feature pockets, making them perfect for workouts or outdoor activities.
There's no shortage of options when it comes to finding the perfect pair of capris as a tall woman; whether you prefer classic styles or trendy pieces, there's something out there for everyone.
How to Shop for Capris for Tall Woman
Shopping for capris can be a daunting task, especially if you're a tall woman. However, with the right approach and some tips, it can become an enjoyable experience. Here are some ways to shop for capris that fit your height perfectly.
Firstly, consider shopping at stores that specialize in clothing for tall women or those that offer extended sizes online. This will ensure that you have access to a wider range of options designed specifically for your body type.
Secondly, pay attention to the inseam length when selecting capris. Ideally, they should fall just above or below the knee for a flattering look. Avoid styles that end mid-calf as they can make your legs appear shorter.
Thirdly, try on different styles and cuts to find what works best for you. High-waisted capris elongate the legs while wide-leg options provide comfort and balance out proportions.
Don't shy away from experimenting with colors and prints. Bold patterns and bright hues add personality to any outfit while creating visual interest.
By following these guidelines when shopping for capris as a tall woman, you'll find options that flatter your figure while showing off your unique style!
The Best Brands for Tall Women's Capris
When it comes to finding the perfect capris for tall women, choosing the right brand can make all the difference. Not only do different brands offer varying styles and fits, but they also cater to different body types.
One of the best brands for tall women's capris is Long Tall Sally. This UK-based company specializes in clothing designed specifically for taller women, with inseams ranging from 34″ to 38″. Their capri selection includes classic denim styles as well as dressier options like linen and twill.
Another great option is Eddie Bauer, known for their high-quality outdoor gear but also offering a range of clothing options including capris for tall women. Their "StayShape" technology ensures that their pants maintain their shape throughout wear while accommodating a variety of sizes and shapes.
For those looking for sustainable fashion options, prAna offers a selection of eco-friendly capris designed with taller frames in mind. Their collection features breathable materials like organic cotton and recycled polyester blends.
J.
Crew offers stylish and versatile capri options made with longer inseams up to 36″. With various colors and patterns available in both casual and dressier styles, there's something for every occasion.
When searching for the best brands for tall women's capris it's important to consider not just fit but also quality and style preferences.
How to Style Capris as a Tall Woman
As a tall woman, styling capris may seem challenging at first. But with the right tips and tricks, you can rock this summer staple effortlessly.
Firstly, consider the fit of your capris. Make sure they are not too short or tight around your calves as this will create an unflattering look. Opt for a wider leg opening to balance out your proportions.
When it comes to pairing tops with capris, opt for ones that hit just below the hipbone to elongate your torso. A crop top or fitted blouse tucked in can also work wonders by showing off your waistline.
Accessorizing is key when it comes to styling capris as a tall woman. Try adding a belt at the waistline to cinch in and define your figure even more. Statement jewelry pieces like bold earrings or necklaces can also elevate any outfit instantly.
Don't be afraid to experiment with different shoe styles! Capris pair well with sandals, sneakers and even heels depending on the occasion and personal style preference.
By following these simple guidelines, you'll be able to showcase those long legs confidently while rocking stylish capri outfits all summer long!
Conclusion
Finding the perfect capris for tall women may have seemed like a daunting task, but with these tips and guidelines, it can be an enjoyable experience. Remember to consider your body shape and personal style when choosing a pair of capris. Look for brands that cater specifically to tall women's clothing needs and don't be afraid to try on different styles.
Capris are versatile pieces that can be dressed up or down depending on the occasion. Experiment with different tops and footwear until you find the perfect look that makes you feel confident and comfortable.
At the end of the day, fashion is all about expressing yourself and feeling good in what you wear. With this ultimate guide in hand, we hope you're now better equipped to find capris that fit well, flatter your figure, suit your taste, and make you stand out from the crowd!
Read More: Alloy Clothes Review of Quality, Comfort, and Style All in One