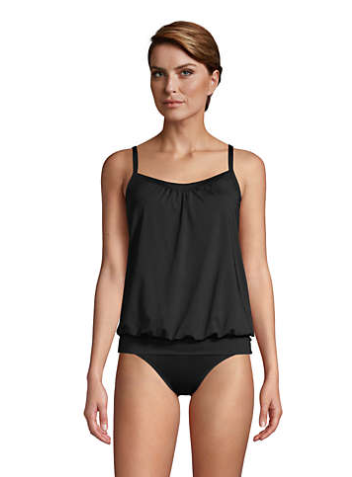 Are you tired of struggling to find the perfect swimsuit that flatters your figure? Look no further than long torso tankini tops. These versatile and stylish swimwear options are designed to elongate your torso, creating a flattering silhouette that will boost your confidence on the beach or by the pool. But with so many different styles and accessories available, it can be overwhelming to choose which one is right for you. That's why we've created this comprehensive guide to help you navigate everything from types of tops to what to wear underneath. Get ready to rock those long torso tankinis all summer long!
What are Torso Tankini Tops?
Torso tankini tops are a type of swimwear that combines the coverage of a tank top with the convenience and comfort of a bikini. These tops typically feature longer hemlines than traditional bikinis, which makes them ideal for women with longer torsos or those who prefer more coverage around their midsection.
What sets torso tankini tops apart from other swimsuit styles is their versatility. They come in a variety of cuts and designs, ranging from halter necks to strapless options, so you can choose the style that best suits your body shape and personal preferences.
In addition to being stylish and comfortable, long torso tankini tops are also practical. They're easy to put on and take off, which is especially important if you plan on changing in public areas like locker rooms or beach restrooms.
Torso tankini tops are an excellent choice for anyone looking for swimwear that provides both style and functionality. With so many different designs available, it's never been easier to find the perfect long torso tankini top to suit your needs!
Types of Torso Tankini Tops
When it comes to torso tankini tops, there are several different styles available. The type of top you choose will depend on your personal style and the level of coverage you prefer.
One popular style is the halter neck tankini top. This style features straps that tie behind the neck, providing extra support for larger busts. It also accentuates the shoulders and creates a flattering silhouette.
Another option is a bandeau-style tankini top. This type of top has a straight neckline and no straps, making it perfect for those who want to avoid tan lines or have smaller busts.
For those who want more coverage around their midsection, a blouson-style tankini top may be a good choice. This style typically features an elastic or drawstring waistband that cinches in at the hips while providing extra fabric around the stomach area.
There are ruched tankini tops which feature gathered fabric along the sides or front of the top to create texture and provide additional coverage around problem areas.
With so many types of long torso tankini tops available, finding one that suits your body type and personal preferences should be easy!
READ MORE: Finding the Perfect Fit: Plus Size Long Torso Swimsuits
How to Wear Torso Tankini Tops
Torso tankini tops are versatile swimwear that can flatter any body type. But do you know how to wear them properly? Here are some tips on how to style your long torso tankini top for the best look.
Firstly, it's important to find a size and shape that fits well with your body. Make sure the straps aren't too tight or loose, and adjust as necessary. You want the top to feel comfortable and secure while still giving you room to move.
Next, consider pairing your torso tankini top with high-waisted bottoms. This not only creates a chic retro look but also elongates your legs visually. Alternatively, you could opt for low-rise bottoms if you prefer showing off more skin.
If you're feeling bold, try mixing prints or colors in your swimsuit ensemble! A bright colored bottom paired with a patterned torso top can make for an exciting outfit combination at the beach.
Don't be afraid to accessorize! Throw on some sunglasses or a floppy sun hat for added flair and protection from harmful UV rays.
Remember these tips when wearing your long torso tankini tops this summer season!
What to wear underneath a Torso Tankini Top
When it comes to what to wear underneath a long torso tankini top, there are a few options that will help you feel comfortable and confident. First and foremost, consider the type of support you need. If you prefer extra support for your bust, opt for a supportive bra or swim top underneath your tankini.
Another option is to go without an additional layer and simply rely on the built-in shelf bra or padding in your tankini top. This can be a great choice if you're looking for minimal layers and maximum comfort.
If you're planning on wearing your long torso tankini top as part of an outfit beyond just swimming, such as at a beach party or vacation dinner, consider pairing it with high-waisted shorts or a flowy skirt. These pieces can provide additional coverage while still allowing you to show off your figure in your stylish tankini top.
There's no one-size-fits-all answer when it comes to what to wear underneath a long torso tankini top – it all depends on personal preference and style!
Accessories for Torso Tankini Tops
When it comes to swimwear, accessories can make all the difference in transforming a basic outfit into a stylish ensemble. With long torso tankini tops, there are many accessory options that can enhance your look and provide added functionality.
One accessory to consider is a sarong or cover-up. Not only does this item add an extra layer of sun protection, but it also adds style and versatility to your beach or pool day outfit. You can tie it around your waist for coverage when walking around or loosen it up when lounging by the water.
Another option is sunglasses. Not only do they protect your eyes from harmful UV rays, but they also add a touch of glamour to any swimwear look. Choose frames that complement the color scheme of your tankini top and opt for polarized lenses for enhanced visibility on sunny days.
A wide-brimmed hat is another great accessory to pair with long torso tankini tops. It provides additional sun protection while adding elegance and sophistication to your overall look.
Don't forget about footwear! Sandals or flip-flops are perfect options for a beach day while slides or wedges can elevate your poolside style.
Accessorizing with long torso tankini tops allows you to express yourself creatively while enhancing both form and function.
Conclusion
Long torso tankini tops are a versatile and flattering swimwear option for women who want to feel comfortable and confident at the beach or pool. Whether you prefer a classic style or something more trendy, there is a long torso tankini top out there that will suit your needs.
Remember to choose a style that accentuates your best features while also providing coverage where you need it most. Pair your tankini with the right bottoms and accessories for an effortlessly chic look that will turn heads all season long.
With this comprehensive guide on hand, you're now ready to shop for the perfect long torso tankini top and create stylish summer looks that flatter your figure!