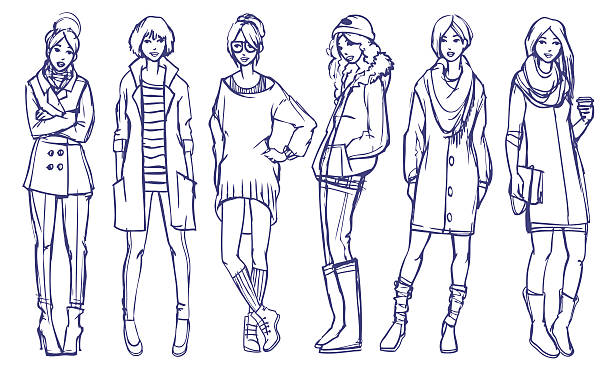 Are you tired of feeling like a giant in every outfit you wear? As someone with a tall body, finding clothes that fit properly and flatter your figure can be challenging. But don't worry – we've got you covered! In this blog post, we'll provide fashion tips and tricks specifically tailored for those with a tall body type. From the best clothing styles to the most flattering colors, read on to learn how to flaunt your height in style!
Clothing Styles for Tall Body
When it comes to dressing for a tall body type, the key is to find clothing styles that balance out your proportions. Opt for clothing with structured lines and shapes instead of loose or flowy pieces. Tailored blazers and jackets can also be great options as they add structure and create a more defined silhouette.
Speaking of silhouettes, A-line skirts are perfect for tall women as they enhance curves while still maintaining balance. Avoid wearing pencil skirts which may draw too much attention to your height.
Another style that looks fantastic on those with a tall body type are high-waisted pants and trousers. They help elongate the legs while drawing attention away from the midsection. Pair them with cropped tops or blouses tucked in at the waistline for an elegant look.
Maxi dresses are another go-to option as they elongate your frame without looking overwhelming. Choose ones with cinched waists or belts to highlight your natural shape. Stay away from mini dresses which may appear too short on longer limbs.
Don't be afraid to experiment! Mix and match various styles until you find what works best for you!
Tall Body Fashion Tips
Tall body fashion can be both a blessing and a curse. While you have the advantage of flaunting your height, it is essential to dress in a way that accentuates your best features. Here are some tips to help you nail the tall body fashion game.
Firstly, invest in well-tailored clothes that fit correctly and enhance your curves. Avoid baggy clothing as it will make you look shapeless, and instead opt for fitted garments that hug your body in all the right places.
Secondly, don't shy away from wearing high waisted bottoms such as jeans or skirts. They elongate your legs even further while also cinching in at the waistline creating an hourglass silhouette.
Thirdly, create balance by layering outfits with jackets or blazers. This adds depth to an outfit while creating proportional balance between upper and lower halves of the body.
Fourthly, experiment with bold prints that add visual interest without overwhelming your frame. Stripes work especially well for tall bodies because they draw attention up-and-down rather than side-to-side.
Choose accessories wisely; long necklaces can make you appear taller while statement earrings draw focus towards facial features rather than height alone.
By keeping these tips in mind when shopping for clothes and styling outfits together – anyone can rock their tall body with confidence!
How to dress for your body type
When it comes to dressing for your tall body type, there are a few things you should keep in mind. First and foremost, it's important to understand your body shape. Are you long and lean or do you have more curves? Once you know that, it will be easier to find clothing that flatters your figure.
Avoid anything too baggy or oversized as this can make you appear even taller than you already are. Instead, opt for fitted or tailored pieces that will accentuate your height without overwhelming your frame.
Another tip is to play with proportions when putting together an outfit. For example, if you're wearing a flowy maxi dress then balance out the volume by pairing it with some chunky platform heels.
High-waisted bottoms such as pants and skirts are also great options for tall bodies as they help elongate the legs while creating a flattering silhouette. When it comes to tops, choose ones with defined waistlines such as peplum or wrap styles.
Dressing for a tall body involves finding pieces that flatter rather than overpower. Keep these tips in mind and experiment until you find what works best for your unique figure!
The best colors for tall bodies
When it comes to colors, tall bodies have a wide range of options to choose from. However, there are certain shades that can enhance their height and make them look even more stunning.
Firstly, darker hues like black, navy blue and deep burgundy are great choices for tall individuals as they create an elongated silhouette. These colors also add depth and dimension to the outfit while making the body appear more balanced.
On the other hand, brighter shades like reds and oranges can be tricky for taller people as they tend to attract attention towards their height. Pastel tones such as light pink or baby blue may also not be ideal since they can make one look too delicate or fragile.
If you're looking to experiment with prints and patterns, vertical stripes are your go-to option! They create an illusion of length which is perfect for someone who's already tall. However, horizontal stripes should be avoided at all costs since they widen the frame.
Neutral shades like beige and gray are versatile options that suit every body type including those with a tall figure. Accessorizing these colors with statement pieces or bold jewelry can help add some flair without overwhelming your overall appearance.
All in all, understanding what colors work best for your frame is crucial in creating a fashion-forward wardrobe that complements your height rather than diminishes it!
What type of clothing to avoid
If you have a tall body, you might feel the pressure to blend in with other people by wearing clothes that are not your style. However, there are certain types of clothing that may not be as flattering for your height and body shape as others. Here are some things to avoid when it comes to dressing up:
Firstly, try to stay away from baggy or oversized clothing. While they might seem comfortable and cozy at first glance, they tend to make you look even taller than you actually are! Instead, opt for fitted or tailored clothes that accentuate your curves.
Another type of clothing that doesn't flatter tall bodies is horizontal stripes. Horizontal lines can create an illusion of width and make you look broader than necessary. Vertical stripes on the other hand can give the appearance of added length – so stick with those!
Short shorts and crop tops may also be tricky if paired together since they can expose too much skin and show off too much leg making them best worn separately if possible.
Steer clear of dresses that end above the knee or midi-length skirts which cuts your legs awkwardly mid-calf rather than elongating them further down close to the ankle.
By avoiding these fashion pitfalls, you'll be able find stylish clothes without sacrificing comfort while rocking a confident look!
The best shoes for tall bodies
When it comes to finding the best shoes for tall bodies, there are a few things to keep in mind. First and foremost, comfort is key. Being tall can already put additional strain on your feet, so it's important to choose shoes with good support.
Flat shoes are always a great option for taller individuals since they help balance out long legs. Opt for ballet flats or loafers in neutral tones like black or nude. These colors will elongate your legs even more while still making sure you look chic.
If you prefer heels, go for chunky heels instead of stilettos. Chunkier heels provide better stability and won't make you feel like walking on stilts all day long! Another great choice would be wedges which offer both height and comfort.
When choosing boots, avoid ankle boots as they tend to cut off at an awkward length on taller people's legs. Instead, opt for knee-high or over-the-knee boots that will accentuate your height and create a sleek silhouette.
Don't forget about sneakers! Sneakers have become increasingly popular among fashionistas in recent years and they're perfect for casual occasions when paired with jeans or leggings. Choose high-top sneakers which add some extra inches while still providing maximum comfort.
Remember: confidence is key regardless of what type of shoe you wear!
How to accessorize your look
Accessories are a great way to add some personality and style to any outfit. When you have a tall body, accessories can help balance out your proportions and enhance your overall look. Here are some tips on how to accessorize for your tall body:
Firstly, statement jewelry like chunky necklaces or large earrings can draw attention upwards towards the face and away from the height of the body. A bold bracelet or watch can also be an excellent addition.
Secondly, scarves are another accessory that works well with tall bodies. They break up the vertical lines created by long torsos and legs while adding color and texture.
Thirdly, belts placed high on the waistline help create curves in all the right places while defining your silhouette without overemphasizing height.
Oversized bags work well with taller frames as they provide visual balance between upper and lower halves of your body.
When it comes to accessorizing for tall bodies, remember that less is more- choose one statement piece instead of multiple smaller ones which could overwhelm the look altogether!
Conclusion
Having a tall body is a blessing and there are many ways to flaunt it in style. By following the fashion tips mentioned above, you can dress for your body type and highlight your height with confidence. Remember to choose clothing styles that fit well, embrace vertical lines, wear complementary colors, avoid bulky clothes and experiment with accessories. Don't be afraid to try new things and find what works best for you. With these tips in mind, you'll be able to create stunning outfits that showcase your unique beauty as a tall person. So go ahead – show off those long legs!
Read More: Finding Your Perfect Fit: Tips for Shopping Big and Tall Girls Clothes, Shoes