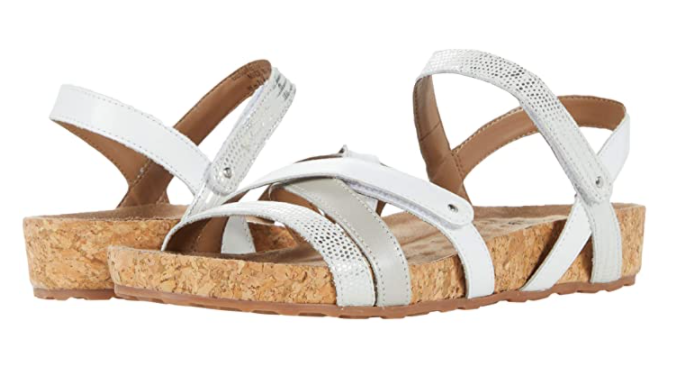 Introduction
Summer is here, and it's time to put on your favorite sandals! But finding the perfect pair can be a daunting task, especially if you have wider feet or need a larger size. If you're tired of squeezing into shoes that don't fit quite right or settling for less than stylish options, we've got you covered! In this post, we'll share our top 10 picks for women's size 13 wide sandals. From sleek and simple to bold and colorful, there's something for everyone. So kick back (in your old shoes!) and get ready to find your perfect summer match!
What to Look for When Shopping for Wide Sandals
When shopping for wide sandals, it's important to keep a few things in mind. First and foremost, you want to ensure that the sandal is comfortable. Sandals that are too tight or rub against your feet can cause blisters and other foot ailments.
Another thing to consider is the material of the sandal. You want to make sure that it's durable enough to withstand long walks and also breathable enough to prevent your feet from getting too hot.
The design of the sandal is also an important factor. Some women prefer minimalist designs with simple straps, while others may prefer more intricate styles with multiple straps or embellishments.
It's also essential to pay attention to the sole of the sandal. Look for sandals that have good traction and provide ample support for your feet. This will help prevent slips and falls while keeping your feet comfortable throughout the day.
Don't forget about color! While this may not be as critical as comfort or durability, choosing a pair of sandals in a fun color or print can add some extra flair to your summer wardrobe.
The Top 10 Women's Size 13 Wide Sandals
When it comes to finding the perfect pair of sandals, it can be a challenge for women with larger feet. However, fear not! We have compiled a list of the top 10 women's size 13 wide sandals that will fit comfortably and stylishly.
1. Birkenstock Arizona: This classic sandal is known for its comfortable footbed and adjustable straps that make it suitable for wider feet.
2. Teva Olowahu: The unique design of these sandals offers both comfort and style, making them perfect for everyday wear.
3. Crocs Capri V Flip: These flip flops are made from Croslite foam which provides cushioning and arch support while still being lightweight.
4. Naturalizer Billie Espadrille Wedge Sandals: These elegant wedges offer extra room in the toe box area as well as memory foam cushioning for added comfort.
5. Clarks Annadel Ivory Wedge Sandal: With its cork-like wedge sole and soft leather upper, this sandal is a great choice for those looking to elevate their summer wardrobe while staying comfortable all day long.
6. Vionic Rest Bella II Toe Post Sandal: Designed by podiatrists, these stylish flip flops feature an orthotic footbed that cradles your feet in all-day comfort.
7. Sofft Mirabelle Sandals: These strappy sandals are made with premium leather uppers and boast memory foam cushioning throughout the entire footbed providing ultimate comfort all day long.
8 . New Balance Renew Thong : A more sporty option than some others on our list – these thongs use rubber outsoles to provide good grip even on wet surfaces!
9 . Propet Aurora Slide : Elastic goring helps ensure proper fit across various widths – while color options like purple or denim help add some variety to your shoe collection!
10 . Ryka Violet Sport : Perfect if you're looking to do any outdoor activities, these sandals have a cushioned insole and adjustable straps

How to Choose the Right Sandal for You
When it comes to finding the perfect pair of sandals, there are a few things you should keep in mind. First and foremost, think about your personal style and what kind of sandal would complement it best. Are you more drawn to minimalist designs or bold colors and patterns?
Next, consider the occasion for which you'll be wearing the sandals. Do you need something comfortable for all-day wear or something dressier for a special event? This will help guide your search.
It's also important to pay attention to fit. Make sure to measure your feet before purchasing any shoes online and check the brand's size chart as sizing can vary between brands.
In addition, consider any foot conditions or issues that may require additional support such as arch support or cushioning.
Don't forget about material quality and durability. Investing in a well-made pair of sandals can save you money in the long run by avoiding having to replace them frequently.
Keeping these factors in mind will help ensure that you choose the right pair of sandals for both comfort and style!
READ MORE: The Best Tall Sweatpants for Women: Fashionable and Comfortable Options
What to Consider When Shopping for Size 13 Wide Sandals
When shopping for size 13 wide sandals, there are a few things you should consider to ensure that you get the perfect fit. First and foremost, it's important to measure your feet before making a purchase as sizes can vary between brands.
Next, think about the style of sandal that suits your needs best. If you're looking for something casual and comfortable, then a pair of slide-on sandals might be ideal. On the other hand, if you need sandals that offer more support or have extra features like arch support or cushioning insoles, then look for options with these features.
Another thing to keep in mind is the material of the sandal. Leather and synthetic materials are durable choices that will last longer than less expensive fabrics like canvas or nylon.
It's also worth considering any specific foot issues you may have such as bunions or plantar fasciitis when shopping for sandals. Look for designs with adjustable straps or stretchy materials that can accommodate different foot shapes and provide additional comfort.
Don't forget about color and design! While practicality is important when choosing shoes, there's no reason why they can't also be stylish and complement your personal tastes.
Conclusion
Finding the perfect fit in women's size 13 wide sandals can be a challenge, but with the right information and tools at your disposal, it's possible to find a pair that meets your needs. When shopping for wide sandals, make sure to consider factors such as comfort, durability, and style. Look for brands that specialize in wider sizes or offer adjustable straps.
In this article, we've highlighted the top 10 women's size 13 wide sandals on the market today. From sporty options like Chaco Z/Cloud X2 Wide Sandals to elegant styles like Naturalizer Tinda Slingback Sandals, there is a sandal for every occasion and preference on this list.
Remember when choosing your perfect pair of sandals to consider not only size but also specific foot requirements like arch support or cushioning. Be patient when trying out different shoes until you find one that feels just right.
Ultimately finding the perfect pair of wide-sized sandals takes time, patience and research. We hope this guide has helped you take some steps closer towards finding comfortable footwear that ticks all the boxes!